11/11 so far, and a good vibe from last night:

I finally got around to actually using the sampling functions of the OP-Z. I sampled in a piano note and come up with this minimal piano line.
this jamuary jam turned out to be a more "complete" song…LFO+FX=

Was going to try for all days this month, but life gets in the way. Here is my day 13.

14/14 so far.
I'm quite proud of yesterdays videography, so if any of you likes Twin Peaks (or even if not), have a look/listen

I used the tape track of the op-z to let everything sound more menacing. Doesn't always sound right, but this time it worked out quite well.
All 18 so far
today I stumbled on an anxious minibrute patch

Mangled some vocals and mutated them using the new Waves vocal plug. My Z is acting up and needs a factory reset. The beat you hear isn't how I left it, but it kept its vibe. #keepjamminjanuary
It's a Deluge based performance with some collab with PO-28.
leave some likes, fam! I will do too.

and another, which is one past…but use your imagination!
today's composition, kicking off the final week

Been a little busy over the last month trying to keep up the daily ritual of Jamuary20/20. I've been compiling them on my YouTube and Soundcloud pages.
The tracks are a mix of Hardware, macos and iOS over the last month. Been using the zed to sequence iOS a lot as of late: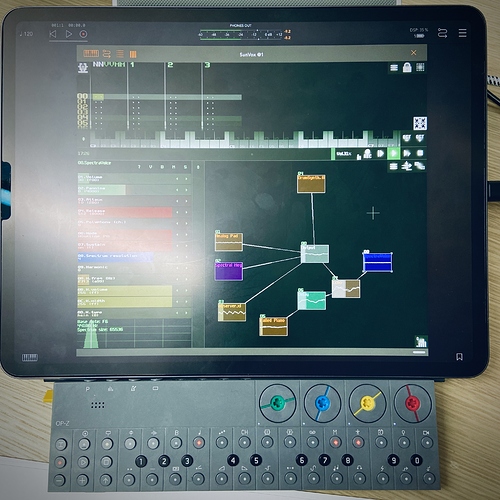 YouTube page here:

Soundcloud here:

Many many thanks for listening and would love to know what you think whenever you get a chance


Today is a long one! Some of you may recognize this tune from my jamurary of last year. It's still a favorite of mine, and I'll have to do something official with it eventually; however, with the addition of my modular, I wanted to bring it back into the spotlight. Also, I've been incredibly sick the past week and haven't had any creative energy (or any energy) to create something completely new. Enjoy!
@beefinator Is that only A4? Excellent

I did something for everyday in Jamuary, with one more to come tonight once i'm home. If you felt like checking it out, it's all on my Instagram:
I make instrumental hiphop, and all types of synthy, boom bappy beats with occasional excursions in chip and drum and bass.