Hi,
Has anyone got Xfer's OP-1 Drum Utility working on macOS Catalina? I've tried all sorts of contortions but can't get it working.
Thanks!!

i dont have Catalina but are u using the 64bit version?
I'm not sure if that is working yet, but you can also use the online drum utility tool (it's the same thing) on op1.fun FYI
Yes, I'm using the 64-bit version but macOS throws up the warning thinking it is malware.

Thanks.
Oh! Thanks. I didn't know about that.

isn't that just a setting that u can change in the system preferences?
i think under security or privacy
Yea, just create an account and then it will let you create your own patches for yourself or to share.
For a long time w/ MacOS Gatekeeper, indie or FOSS devs have had to deal with their builds not being signed (notarization is the new pain point).
To bypass:
Right click (or hold control and click) and choose "Open" then at the next warning dialog, click "Open".
Thanks, but that ain't working. The icon for the application is showing crossed out (see the attached image) and when I right click and do Open I just get a message saying the application needs updating. Sigh. Looks like I'll have to use a Windows machine or the OP1.fun drum tool for now.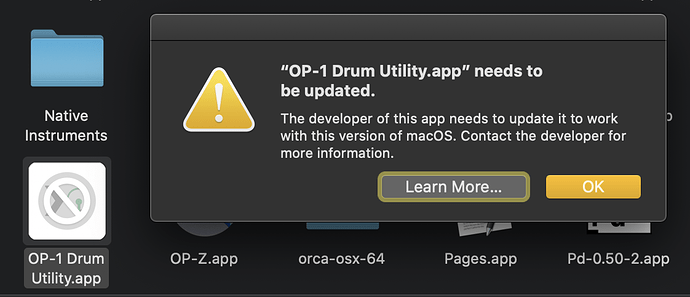 Oh yeah, 32 bit apps don't run anymore. The developer needs to recompile as a 64 bit app.
from the website:
v 1.02 adds 64-bit support for the VST/Audiounit resource inside the .app (the host is still 32-bit)
So the containing app that hosts the VST/AU for stand-alone use, is still 32 bit.
Try using it as a plugin for a VST/AU compatible DAW.