Hello,
I've just got a new OP-Z this afternoon. It has turned on fine plugged in to a computer via the usb cable but does not power on with just the battery.
It shows a full battery when pressing the screen battery, and when plugged into usb shows a solid green final light indicating full battery charge.
I have tried the below advice twice on the TE website to reset the battery indicator but the battery indicator still says it is full and won't power on with just the battery.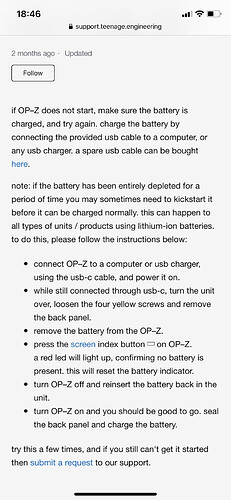 I'm leaving it on to charge via usb for a while to see if that fixes it. Anyone else experienced this and what was the solution?
This didn't happen with my first OP-Z!