I know the rep in the Anderson video mentioned it is coming but I wonder if anyone has heard when?
I am pretty sure that the hardware is not capable? Like the switches are on/off, not capable of signaling velocity.
At least that was my impression, same keys as OG.
Please someone correct me if I am wrong.
Edit: looks like the hardware was capable!
There has been talk of using the accelerometer in the hardware, although I don't think there's a firm commitment to either getting it to work or a date – just that Tobias said in an interview that it was being looked at.
Interesting. So the OP-1 Field already has the ability to use external keyboards with velocity sensitivity ability connected. I know that because I own one. In order for this to happen it has to be built into the device. The question then becomes how will TE make it respond to the on board keybed.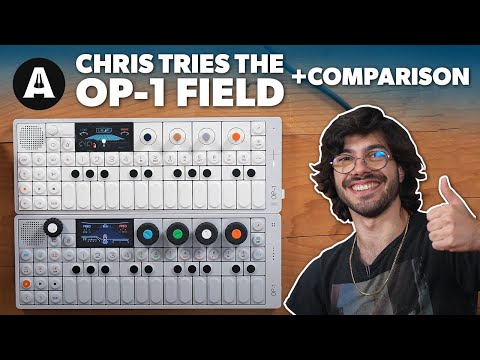 7:52 in the video.
That's true. I haven't tried it. I should dig out my QuNexus and give it a go.
I use a CME Xkey air with my op-1 field and can't help but wonder why TE couldn't have implemented switched or membranes like CME did on this keyboard.
I'm not sure of the workings but the technology exists. The Xkey is clicky just like the OP-1 but has velocity AND aftertouch. I think it would really open up potential for LFO's and even new sound engines really focused on key expression
I use to have the 37 key Air. I miss it. Lol. I may grab one if I can find a used one. I really hope TE finds a way to add it to the OP-1F.
I'm hoping this is in the next update using the gyro in the device to get as close to velocity sensitivity as possible. I'm sure it'll happen eventually if they finally added audio over usb to the op-1. Would have been perfectly fine with them adding a couple inches of thickness to the field for better keys, more ram and storage, etc. and making it more of a brick but the upgrade is still great.
I was just thinking along these lines.
The Minifreak inspiring my thoughts of an OP-1 Field or whatever that is really around a microkorg size and is a total beast of a mini workstation. I know it's not what the OP-1 is, but an OP-1 Plus or whatever could really be dope for people who use it at a desk or it's their only piece of hardware.
I guess the MPC key also inspired these thoughts.
Kinda think it would be cool to have, obviously with the added size and more of a workstation feel I'd definitely want just a few upgrades


like more effects and multiple effect slots would be great. Also with a workstation feel I'd love an EP and a Organ engine even if they were just built off of FM like the OP-Z engines are, though I think they could do even better.
All just a dream

They could have just added a micro Sd card slot. That would have taken care of the memory.
Get out of here with your reasonable ideas