Hi everybody,
I mentioned a few months ago in the PO Hacks channel that I'm developing this daughterboard for the Pocket Operator, to let you play it like a drum!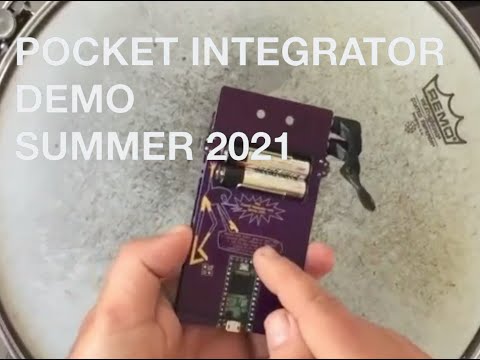 I'm about to Kickstart this, so I'll probably mention it here again … hopefully not in an annoying way. =)
My board, the Pocket Integrator, has a couple other tricks built into it. One of them is an interface to the PO's flashing/debugging pins. With this board, you can in theory reprogram the firmware of your Pocket Operator!
If that sounds like fun to you, then you're probably the same kind of freak I am. Please read on!
The thing is: right now there isn't any new firmware for the Pocket Operator. Developing that would be a rad open-source project. I want to help make it happen. It could give a second life to all the POs out there that didn't work out for their owners for whatever reason. And it'd just allow a bunch of new possibilities. I have a bunch of ideas for alternate Pocket Operators, and I've heard a lot of other good ideas too.
But because this Kickstarter project will keep me busy with development/completion of my board and its firmware, I can't really promise to spend much time on developing an open-source Pocket Operator firmware, at least not until the boards are manufactured and sent out to backers.
Because of that, I'm actually puzzled by how to talk about this feature on the Kickstarter. I definitely don't want to promise people a cool open-source firmware that doesn't exist yet.
But what I can do is: start connecting with any other people who would be into an open source PO firmware. Then if the Kickstarter succeeds, I can set up an early-access program to get beta boards in the hands of everybody who wants to hack on PO firmware.
Is anybody here interested in being part of that? If so, please leave a comment. Thanks!