this is awesome, im glad you are making your own set ups


im not sure what numbers "178, 177, 176" refere to.
but i use this numbers for modulating master volume.
i would make an dynamic control element that has this perimeters:


there is no cc for master volume, so im utilizing master filter, that has same effect as volume.
… master filter modulation range must go from 0-64 not from 0-127 other wise it will over modulate filter perimeter. you can adjust cc output range in MiDiFlow app.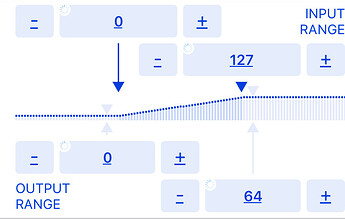 it only possible in wireless set up (Bluetooth midi to MiDiFire app on your phone) if you are using wired set up, you are limited to 0-127cc range.
…list of ALL roli dashboard apps:
…awesome to explore with OP-Z.