redesigned lfo with new shapes, tempo sync and accelero-meter support. read about it here.

add lfo to effect tracks

add note style option to master track (latch, free). read about it here.

add low battery led indication. read about it here.

add setting to disable arpeggio. read about it here.

softer pop at shortest envelope release setting

fix crash when killing notes (TRACK+STOP) on tracks other than the first 8.

fix flipped usb audio L/R signal

fix occasional pop/noise on tape track

fix bug where polyphony note stealing sometimes chose wrong note

don't stall midi output when switching projects while connected to app

disregard 'channel_one_to_active' setting when processing incoming UI group CC messages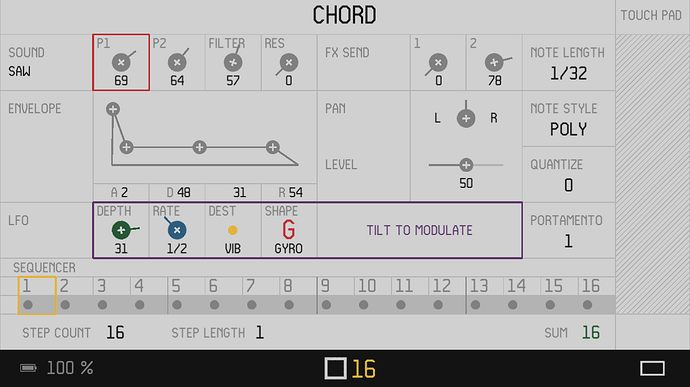 haha…I had thought about that today
amazing how versatile the OP-Z is now with the new lfo destinations! Attack and Vibrato is super sick! updated realtime graphics aswell! LFO goes into audio rate and fattens up the synth engines! wooosh.


One of my favorite things in the Op1 (the lfo-gyro).Awesome to have it in the Opz as well.
Hi I am not so good with using LFOs and would welcome any tips from anyone - beginners advice would be very helpful especially as I found the manual a bit confusing. Thanks a lot
you can use em to Modulate different parameters on each track,
big update! the ability to turn off the arp is so nice.
routing a synth through both fx with applied lfo on all 3 tracks gives such great results!
out of nowhere.

I think this is new: when you adjust an LFO parameter, the number keys (1-0) light up to show you the current value of your adjustment. No more having to remember all the color codes!
Also possibly new: when you hold down shift to copy track/pattern/settings, the relevant buttons flash yellow to show you what is going to get copied.
This is great. The OP-Z keeps getting better and better.
Hi just updated but does not allow me to select audio inputs when I press screen. Can only select mike input and not usb or 3.5 inch jack.
My second set of lfo shapes, the triggered ones, are all white… are your guys ones colored like the first six?
I've tried updating bunch of times and it still does it… I guess that's how is supposed to be… Also my rate knob only has colors for the first fixed settings, the free rate stays purple and gets brighter the fast the lfo goes. This update is sick!! The synths just got a whole lot more interesting… I love the random!!
They have to be plugged in for them to register, and they can be finicky… sometimes you have to plug and unplug a bunch of times…
Same here, but be invented to show that they are the retriever set
Love this update, love the new LFOs and gyro implementation, also love that I can now use the arp track without the arp.
Ok will try that

Very interesting!
It seems like it is possible now to change the sample starting points outside of sampling mode?
I wish my OP-Z wasn't in repair right now

Lil tip if i don't mistaken. The colors of the led cycle in the same order of the colors of the encoders (green blue yellow red)
there's a new lfo destination "attack" and I guess he's using the one but the Gyro is somehow linked to that…