wow imblind i didnt even see the date when i went to the website earlier!
"oo pretty homepage icons" *proceed to accessories page ;D
Some people were praying for an OP-Z Field on line, but the icons on the post are hinting at something else.
But I'll admit, I'm curious af!
The style of icons is very OP-Z-ish.
The color scheme is very different though
Ok, what do we see:
USB-C: OPZ already has one
A lot of sampling related icons: cut, hop?, rec, play, in-out, waveform, mono, etc
Knob with a red cap: looks very op-1(f)
LCD screen symbols. This is interesting. Doesn't look like anything before. Even PO screens have a different look
Amplifier Lamp: idk what it is, but it's warm and analogous
5-pin MIDI


- keys?
Laptop - too many options what it could be
Grid + something that looks like an envelope: Reminds me FX graphics
This thing: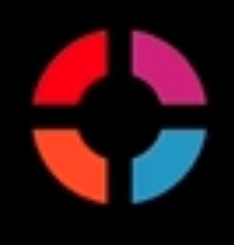 Side note: OPZ modules dropped price: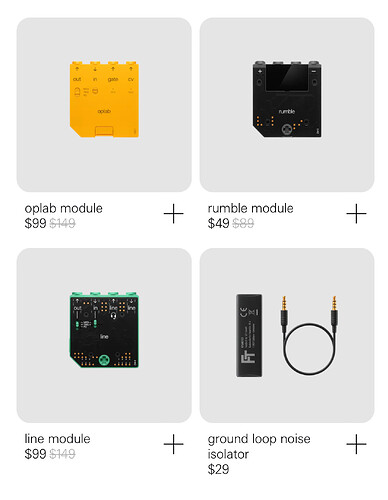 What if it's an op1F firmware update that finally gives it the midi capabilities of the op-z?? Maybe that's why the editing features are there with the icons and stuff of the op1?
I just joined so I might have no clue what I'm talking about

I'm probably wrong.
But given how other brands made the move, I'm wondering if they are not about to issue some kind of DAW.
Just the way UAD did it with LUNA. As a way of unifying the Field family. Looking at the icons, I'd say it's a not a so crazy idea. And, given the fact that they released 3 new products already this year, I'd say they are missing this fundamental software block.
Hence the out-of-the blue announcement.
But, again, I'm probably wrong. It's TE. We'll know in a few days. And will probably be polarized by the product!
It would be nice


But if you have an OP-1F and use the sequencers I think it's hard to picture exactly how they'd implement such a deep sequencer with the current setup, plus the Op-1F at it's core plays one thing at a time, whereas the op-z sequences a bunch of tracks at one.
That said I'd be really interested in a couple new sequencers, like things similar to the ALM Pam's Pro Workout module or the Torso T-1. So easy to access/build Euclidean sequencing with multiple parameters of control and random/humanize elements.
so called 'tape components'

for the love of god please be a field firmware update.
But it will probably be a little app or something, or who the heck knows some random thing no one's expecting that kind of makes sense, looks cool, and is like insanely expensive yet tempting.
I'm guessing it's software based on the icons. Something to supplement the entire field kit
its new hardware. supposedly at a mid-range price point. several products apparently…
Anyone spotted any ftc filings… lol.
3 new midi control surfaces and an app?
Just a suggestion, what if something is coded behind the images? One image = one letter
UPD: Ah damn, its animated, saw a static image first.
Maybe something like Korg Gadget, extending the PO android app?
I see symbols that spell PIE-3. Maybe the pastry timing accessory I've always dreamed of?
Confirmed, it's a three channel kitchen timer to make knockout meals.
Ha! Something 1, 2, 3…
Something pocket operator ish…
Something with effects but also synth but also chops of tape… They sync over midi and USB…
So my 2p: a range of three pocket things that are a synth, a recorder, and then a clock synced effects box.
For bonus guesswork speculation points I'll also say: the last of the three will be the killer seller.
So. Tomorrow, 3pm/15h CET.
What a weird week.
First, today they dropped the toy car for 250€.
And tomorrow, drops a new thing.
Gotta say, I'm not exactly sold on that whole way of marketing releases the way TE does anymore.
It's a bit too Apple-ish for me.
This week (today, to be exact), Chase Bliss released a new pedal. And they nailed the way the marketed the whole thing. Clues, engaging posts, etc. A real boutique approach, if you know what I mean.
TE can try and do the Apple thing with products like the Car or accessories. But when it comes to music gear, call me stupid, call me grumpy, but I like when a company tries to get playful with its customers.
And that whole animated screen is really great. But it's just half a good idea. Could have been way more playful for the whole lot of us.
Anyways.
I'm talking to myself.
Sorry for the pseudo-rant.
I'd lie if I said I'm not curious af.
I'm new to TE and synthesis in general but when I saw the OP-1, it was like one of those "Wayne world white fender Strat" moments - I just had to have it. $2k for a machine of this nature and the way it's designed is "boutique " which I don't like as a concept or offering or however you want to package the product.
My interest is super high but focused ; it's binary. If it isn't an OP-Z field I will be the happy owner of the op-1 field. I'll be happy either way, hope there's a sale if anything, that would be a nice announcement
Gotta admit that, for a moment there, I thought it was just them announcing a big sale!
I'm a fairly new owner of some TE gear.
But when I came across the OG1 back in 2011, it was that kind of moment too.
Except that, since it was in a Swedish House Mafia video (and I was starting as a mix engineer, working on EDM tracks a lot), I wanted it as a main synth.
I ended up buying a s*%#load of software that year. And lost sight of that quirky little device.
Only to find it back where I wouldn't have guessed it would find its way : Ambiant and LoFi.
I purchased my op1 Field back in July, thinking it was overpriced and probably just something I'd end up returning (so I could buy a Deluge or a MPC). But since July, I've crafted 200+ demos on this thing - despite having a new born at home and loads of work.
It just suits my need.
I'm 15 again, cutting actual tapes in my room, playing with my 50€ cheap guitar pedals and my Bontempi synth.
Since the op1 Field, I've bought into their POs and the OB-4.
Can't quite justify the rest of the Field family for now.
But I gotta say, they got me hooked.
Now, I'm curious every time they hint at something.
Let us know where this journey takes you!