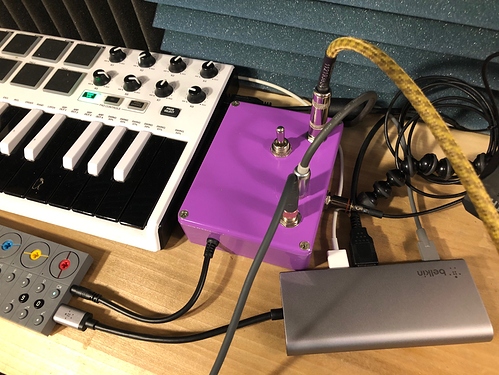 Hey OP forum world. I'm new, and i love my OP Z. But i hated having 20 dongles to get things to work right. So i went on a great quest, to understand TRRS and TRS and TS inputs and line/mic/instrument signals and all that jazz.
It's still a work in progress, but i have finished my first rapid prototype today!


Basically it's an all in one interface for OP Z. It plugs into the trrs port on the opz. It has one 1/4" stereo headphone out and one 1/8" stereo headphone out. Both can be used at the same time.
It also has a 1/4" mono instrument input and a 1/4" mono line in (since opz only has mono thru mic anyway). Both signals are attenuated and work through the opz mic in. Only one can be used at a time and either is picked with a toggle switch. it's activated normally by holding screen button and selecting input 2 on the opz.
So far in all my tests everything worked great. This is just a prototype.
i want everyone's opinions. Would this be something you would appreciate? Could you see yourself using this? What other features do you want?
If there's enough interest i might build a handful of 2.0 models with a few more features like: dedicated volume on outputs, dedicated volume on inputs, and maybe a trrs or trs jack for a mic. And i might sell them or even give some away in some kind of giveaway.
let me know what you think sorry for the rant!!!